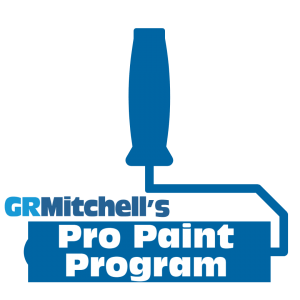 While You're Here, Pick-up Some Paint
GR Mitchell is proud to offer Painter's Select PRO line of paint. It's specially formulated for light commercial use and offers value and quality ideal for rehab jobs, house flips, and industrial applications. Painter's Select PRO is available in 3 finishes; Flat, eggshell, and semi-gloss. Painter's Select PRO can be purchased in gallon or 5 gallon buckets.
Can be color-matched to your current brand including Benjamin Moore, PPG, and Sherwin Williams
Exceptional hiding capabilities
Excellent spray application
Good flow and leveling
Durable
Low VOC

Try GR's Pro Paint For Free
While you're here sourcing materials for your next project, talk to us about your upcoming projects. Is paint on your 'to-buy' list? If your job is a good match for our new Pro Paint Program, we'll give you 5 gallons for free to try out.


Like The Way It Performs?
In addition to your first 5 gallons being free, once you're in the program you'll automatically get Buy One Get One Free gallons, up to 50 gallons.


The Convenient Way To Buy Paint & Supplies
In addition to being able to order your paint while you order your materials, we'll also deliver it to your jobsite. You'll even be able to order it over the phone, add it to your GR Mitchell account, and tell us when you'd like it to arrive. Need rollers, tarps, and other painting supplies? No problem! We'll add those to your delivery, too.
Claim Your Free Paint
Come to our Willow Street location to talk to our Pro Paint Specialists or fill out this form to get more info about our PRO paint program and getting your free paint.