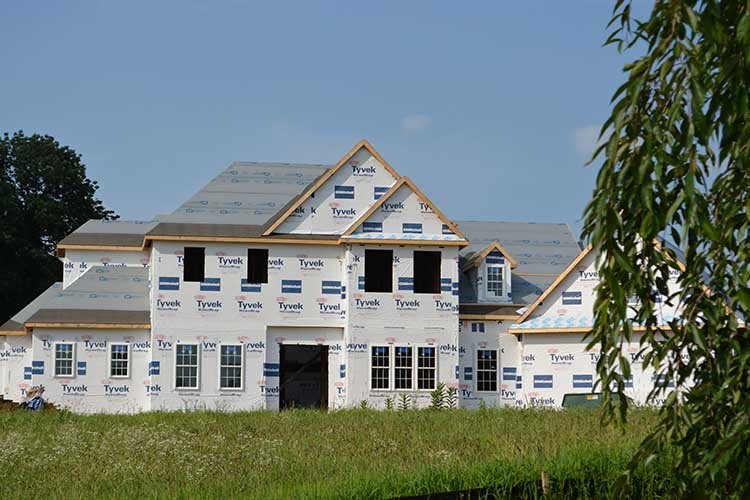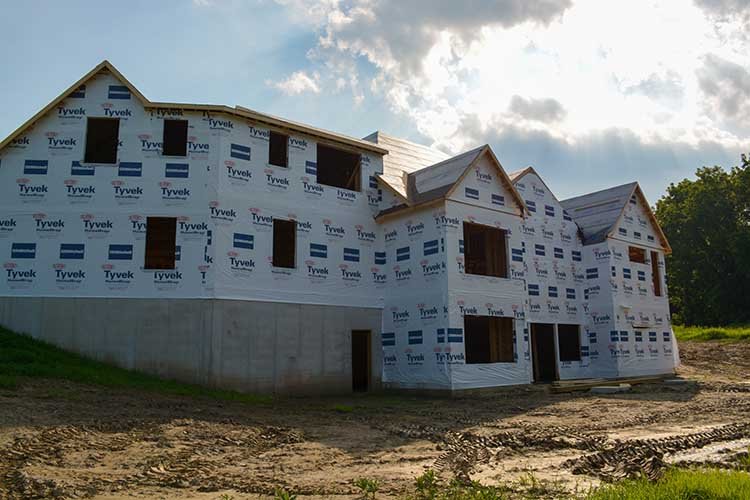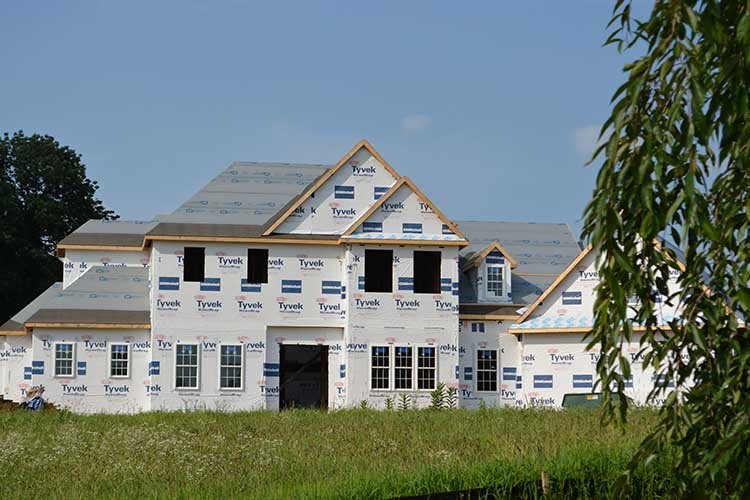 Buy Tyvek House Wrap Here
GR Mitchell is Lancaster County's source to buy Tyvek® HomeWrap® brand house wrap and other Tyvek® building envelope solutions. If you need to buy Tyvek house wrap, we will work with you to make sure you have the right materials and tools to efficiently and effectively wrap your buildings.
DuPont™ Tyvek® Dealer
GR Mitchell
14 Beaver Valley Pike
Willow Street, PA 17584
717-464-2999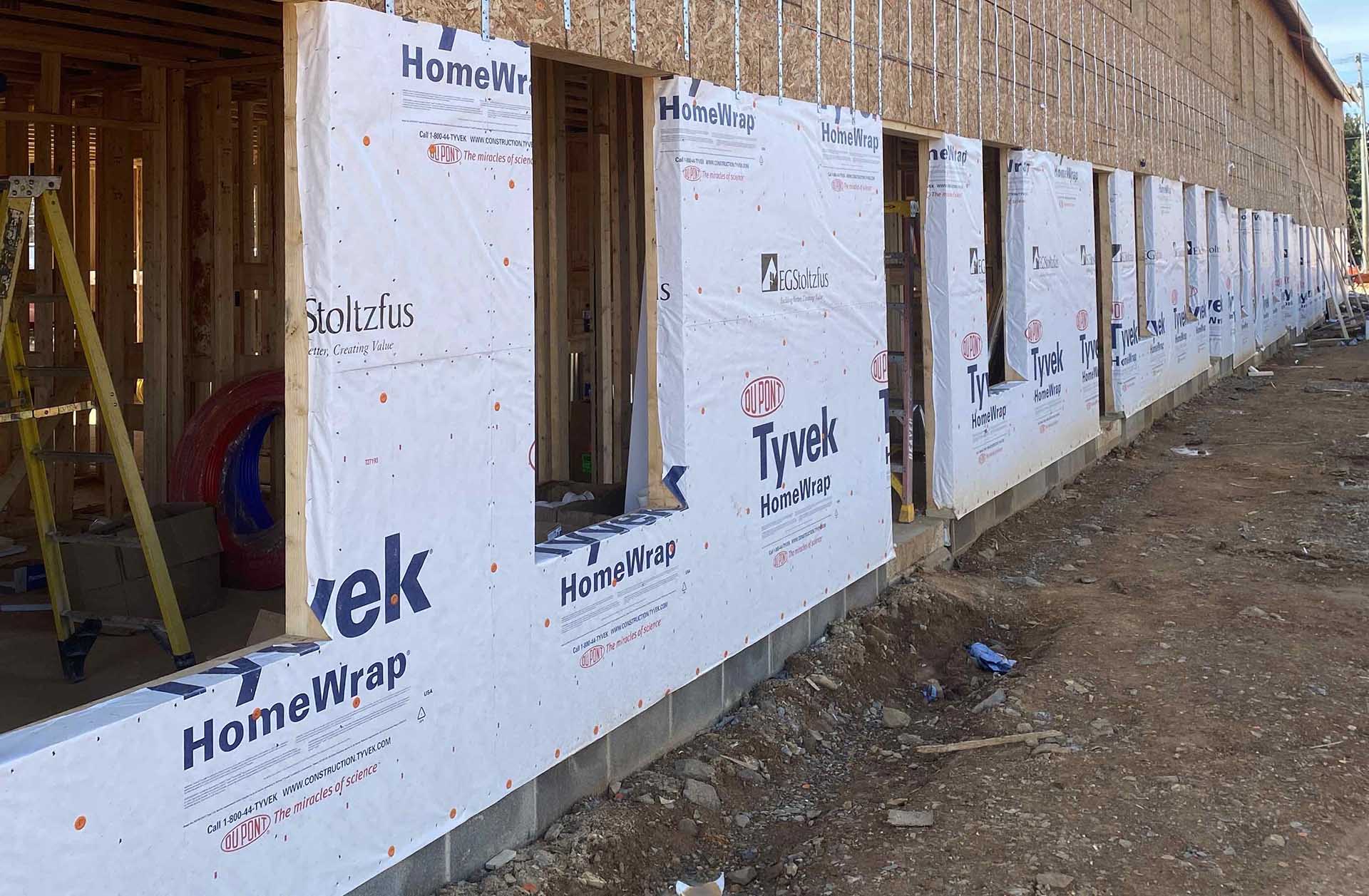 Why Buy DuPont™ Tyvek® Products?
Tyvek Building Envelope Products protect against air, water, and heat transfer through the structure walls. This protection improves the energy efficiency and durability of the buildings Tyvek protects. DuPont invented the house wrap category over 30 years ago. As the leader of the industry, DuPont continues to improve and innovate their building envelope products every year for improved air and moisture resistance to prevent water damage, mold or rot. Today, Tyvek house wrap continues to outperform competitor products and delivers a superior house wrap that is easy to install, durable, and water and air resistant.
DuPont™ Tyvek® House Wrap Products
GR Mitchell sells the following DuPont Tyvek Products:

DuPont™ Tyvek® HomeWrap®
Our most popular Tyvek product, Tyvek HomeWrap is manufactured with a non-woven structure that makes it breathable. This patented construction allows moisture vapor to evaporate and stops air movement through walls so insulation is able to perform closer to its full R-value which makes the building more energy-efficient. Tyvek HomeWrap is easy to install and performs better than low perm microporous film and micro perforated house wraps, which can allow bulk moisture in and can tear more easily.
DuPont™ Tyvek® ThermaWrap® R5.0
Tyvek ThermaWrap R5.0 gives all the air, water, and thermal protection of Tyvek HomeWrap with the added benefit of an R-value of 5.0. This gives you a single roll to improve the energy efficiency of your building with the breathability that gives you air, water, and thermal protection. ThermaWrap comes in 4' x 40' rolls that are easy to manage and install. ThermaWrap is made from 20% pre-consumer recycled Polyolefin and comes with class A flame spread and smoke developed index rating and a 10-year limited warranty.
DuPont™ Tyvek® Tape
Tyvek Tape is made from an oriented polypropylene film and coated with a specially formulated permanent acrylic adhesive that creates a strong, waterproof seal. The tape is easy to use with superior adhesion qualities to DuPont Tyvek products. When used as part of an overall building envelope system with other Tyvek materials, seam tape can:
Allow systems to meet requirements of ASHRAE 90.1 and IECC Air Leakage Requirements, when tested in accordance with ASTM E2357.
Allow systems to meet requirements of Wisconsin Energy code (ASTM E1677 and/or ASTM E23571).
Help contribute towards LEED® (Leadership in Energy and Environmental Design) points.
DuPont™ Tyvek® StraightFlash™
StraightFlash™ flashing is the part of the DuPont building envelope system that protects the vulnerable areas around doors and windows from penetration by the moisture from rain and snow. StraightFlash combines a Tyvek topsheet with a 100% butyl-based adhesive layer. This makes a self-adhered flashing that has the strength, durability, and water resistance of Tyvek. StraightFlash can also contribute towards U.S. Green Building Council LEED® points and more:
Backed by a limited product warranty from DuPont.
Qualified to several key industry-approved standards, including AAMA 711-07 Voluntary Specification for Self Adhering Flashing Used for Installation of Exterior Wall Fenestration Products.
Supported by the DuPont™ Tyvek® Specialist Network.
DuPont™ Tyvek® StuccoWrap® WRB
Tyvek StuccoWrap WRB is a building wrap that has a grooved surface that works as a drainage plane behind the stucco façade and EIFS systems to improve water management. Tyvek StuccoWrap comes in 5- foot-width rolls and is pliable so it can be installed around corners and architectural elements. StuccoWrap is backed by a 10-year limited
warranty
from DuPont.
DuPont™ Tyvek® CommercialWrap®
An easy way to keep up with changing codes and standards is to use Tyvek® CommercialWrap building wrap. CommercialWrap is one of the easiest ways to make a significant difference in energy efficiency and overall building performance by controlling air leakage to improve the overall efficiency of buildings with HVAC systems. CommercialWrap also controls moisture by preventing water infiltration and allowing water vapor to escape if moisture does get in to prevent mold and improving air quality.
DuPont™ Tyvek® DrainWrap™Tyvek®
DrainWrap™ has vertical grooves on the surface that make it a superior moisture barrier that provides enhanced drainage behind claddings, fiber cement siding, and foam board applied over flat substrates. The unique material structure of Tyvek® DrainWrap™ has a unique non-woven fiber structure that helps hold out bulk water, while allowing water vapor to pass through it. DrainWrap™ also can make homes more energy efficient by preventing air from moving through the walls.