ROOFING SUPPLY
Residential and Commercial Roofing Supply
We have a complete roofing supply inventory: from underlayment and starter shingles to ventilation, cements, and coatings for low-slope, flat or peaked roofing applications. Regardless of your project's size, we can help you plan, estimate, and deliver your order so you have exactly what you need for your specified roofing demands.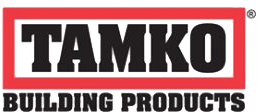 TAMKO® Building Products
TAMKO is one of the largest roofing manufacturers in the USA. They offer multiple shingle options as well as professional-grade roofing accessories for every roofing installation.
TAMKO Heritage® Asphalt Shingle Lines
TAMKO Heritage shingles are designed to bring vivid color and prominent shadow tones to the finished roof. Heritage comes in a standard and premium line as well as these specialty lines.
Heritage® Vintage® Laminated Asphalt Shingles
Designed to portray real wood shakes, the Heritage Vintage line of shingles creates angular lines and naturally deep shadows. This line is ideal for older buildings.
Heritage Woodgate® Laminated Asphalt Shingles
Woodgate laminated shingles are wider and designed to create a more textured roof with a wood-shake appearance. Available in natural wood colors.
TAMKO Elite Glass-Seal® Fiberglass Shingles
TAMKO's Elite Glass-Seal 3-Tab Shingles are standard-sized fiberglass shingles. These 3-Tab Shingles come in a full spectrum of colors including white.
TAMKO MetalWorks StoneCrest® Steel Shingles
TAMKO's Metalworks StoneCrest shingles are steel shingles designed to replicate natural materials. These shingles are recyclable, ENERGY STAR Qualified and rated by the Cool Roof Rating Council (CRRC) for its radiative properties.
StoneCrest® Slate Steel Shingles
Made from G-90 steel, these shingles are double stamped to create a random finish to look like natural slate shingles. These shingles are 100% recyclable and are ENERGY STAR qualified, which may help reduce cooling costs.
AstonWood® Steel Shingles
AstonWood Steel Shingles are designed from double-stamped galvanized steel to replicate the look of Cedar shingles. These steel shingles are also ENERGY STAR qualified and rated by the Cool Roof Rating Council (CRRC).

Barricade Building Products
Barricade Building Products is a manufacturer of poly extrusion and aqueous coated paper and paperboard products in Richmond, Virginia. Barricade offers structural sheeting and synthetic roofing underlayment.
Barricade® Roof Pro and UDL Synthetic Roof Underlayment
Barricade synthetic roof underlayment is a highly engineered synthetic underlayment. It offers benefits you won't find in traditional asphalt saturated products. Barricade underlayment behaves more like a wrap, providing superior UV protection, tear resistance and a non-skid, cool gray surface. UDL has a 48" width that provides more coverage per lap than traditional 42" synthetic underlayment and 33% more than 36" felt.

Warrior® Roofing Manufacturing
Warrior Roofing Manufacturing is one of the roofing industry's oldest, independent manufacturers of roofing felt made in America. Warrior roofing only specializes in roofing underlayment.
Warrior Roofing Felt
Warrior manufactures more than 12 roofing underlayment products to meet specific ASTM requirements. Warrior Roofing felt comes in a different perforations and splits, as well as fiberglass reinforced roofing felt and building paper. We stock Warrior brand in in 15 and 30 lb felt papers.
Visit Our Building Supply Desk for More Information
We'd be happy to help you with your roofing project, whether you are a do-it-yourselfer or a commercial contractor, we can get you the right roofing materials for any size project. Come back to the desk at the back of the store and we'll show you the best options for your new roof.