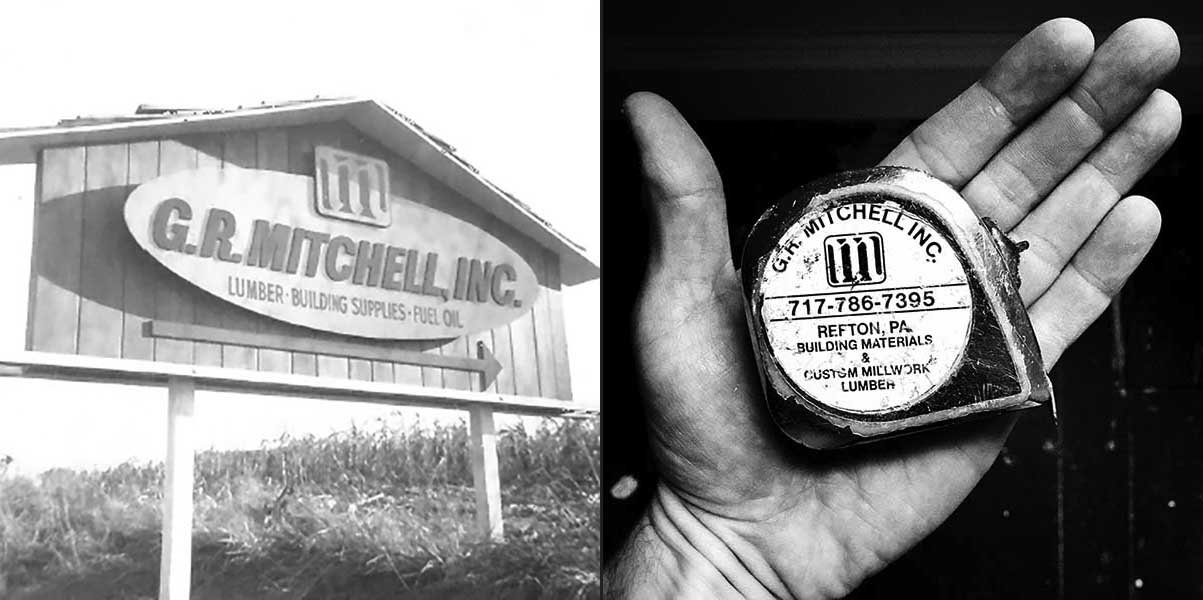 1904

Ira B. Graybill, a bookkeeper for Herr & Snavely, in Lancaster, purchased a grain and feed business located in Refton. Harry Eby operated it until 1907, when Mr. Graybill took over. In later years, Ira's son Bob became a partner in the business.

1946

George R. Mitchell accepted a position from his friend Bob Graybill as sales clerk and bookkeeper. By this time, the business primarily dealt with feed, fertilizer, coal, and building materials. It had three trucks and five employees, including the two owners.

1950

George became an active manager, and by the 60's, he was running the entire operation.

June 1, 1969

George purchased the Refton business, and renamed it G.R. Mitchell, Inc. At that time, it was doing approximately $500,000 in gross annual sales.

June 1972

Hurricane Agnes destroyed some of the bridges that supported the rail line from Quarryville to the Refton store. Railroad service was discontinued, which ended GR Mitchell's sale of coal.

1973

George's son Steve joined the family business full-time, first as loading and driving trucks and later in sales and office support.

1977

GR Mitchell became an American Hardware store. (American Hardware became ServiStar, and eventually True Value.)

The business continued to grow, and the Refton store/office expanded in 1981 by redesigning the entire Refton yard. GR Mitchell's retail store and inventory of building supplies were greatly increased.

1985

George Mitchell sold the business to his son Steve, and retired. That same year, Betty Marley joined GR Mitchell for office and bookkeeping support.

1989

Steve attempted to purchase a custom architectural millwork business but the purchase fell through at the last moment. Undaunted, Steve hired a millwork manager and within 30 days had purchased the equipment and hired employees to create GR Mitchell's own architectural millwork department at the Refton location.

Also that year, Steve purchased a 13-acre tract at 14 Beaver Valley Pike, Willow Street, with visions of moving the Refton location in the future.

1990

Further growth at the Refton location strained capacity and expansion there wasn't viable. So, the decision was made to begin plans for developing the Willow Street property. GR Mitchell also purchased a second store/lumberyard in neighboring York County.

1995

Zoning approval was finally accomplished to develop the 13 acres in Willow Street, and construction began on the 10,000 square-foot hardware store, a 25,000 square-foot building supplies warehouse, and an expansive lumberyard.

May 1996

The Willow Street facility opened for business. The Refton location remained for the custom millwork operation, and the York County facility was closed. The new Willow Street operation was able to service GR Mitchell's expanded territory that had spread from York County to parts of Southeast Pennsylvania.

2005

GR Mitchell opened a Yorktowne Kitchen Cabinetry Showroom in York. It featured 20 kitchen displays, including a fully operating kitchen. This provided an excellent way to invite contractors and clients into the showroom for feature demonstrations. (Over the years, other cabinetry lines were added.)

2011

George R. Mitchell passed away. That same year, Tom Keller joined GR Mitchell in a sales role. (He was later named Sales Manager.)

2015

Steve began selling shares of GR Mitchell to Tom Keller and Betty Marley. Tom had been a driving force in expanding building supplies sales with builders and GCs. Betty's key financial expertise had been invaluable in supporting GR Mitchell's growth.

2016

GR Mitchell started Prime Builder Services for installing framing and trim for larger commercial jobs, giving General Contractors a one-source supply & install solution.

2017

Owners Steve Mitchell, Tom Keller, and Betty Marley charted a course for the 45-person team to scale in support of growth driven by Prime Builder Services.

2019

As GR Mitchell marked its 50th anniversary Steve Mitchell officially retired. The construction of a 10,000 sq ft addition allowed for an expansion and remodeling of retail and showroom space plus office expansion. Integration of new business software and additions of key staffers, like General Manager Ryan Darrenkamp, improved infrastructure and ability to best serve customers.

2021

GR Mitchell's commitment to investing in company infrastructure leads to the expansion of the fleet. New vehicles from pick-ups to Moffet trucks increase delivery capabilities and improve timeliness of each load.