YORKTOWNE CABINETS DEALER
Yorktowne Cabinetry: Striking Design, Enduring Quality
Yorktowne Cabinets come in a wide variety of styles, finishes, materials, customization, and tons of organization and storage solutions – all while remaining competitively priced. They provide superior value and exceed expectations. Yorktowne produces enduring cabinetry that doesn't need replaced. They are made in the U.S. and certified by the Kitchen Cabinet Manufacturers Association (KCMA).

Thanks to our close relationship with Yorktowne and our years of experience with the brand, GR Mitchell can help make the design, delivery, and installation process easier for both homeowners and contractors.


Iconic Series
Highly customizable with an array of styles, finishes, and accessories to make a very unique room space that's as functional as it is beautiful.
Through December 31st, save up to 10% on the Iconic Series*
Historic Series
Recreate the cozy feel of vintage American kitchens with this timelessly elegant style. Introducing a full line of inset cabinets for every room in the home. The Historic Series offers vintage elegance through a broad collection of styles that embody a classic heritage of style.
Classic Series
Showcases American charm and craftsmanship with distinctive styles that are both practical and timeless.
GR Mitchell's staff can work with you to find a design you, or your clients will love, that applies to this budget-friendly offer.
Through December 31st, save up to 15% on the Classic Series*
Bath Sanctuary
The charm of elegant furniture with effortless flexibility. That's what the Bath Sanctuary line can bring to your custom bathroom. With a collection of vanities and freestanding closets you'll be able to build the spa-like bath that's ideal for your existing space.


Explore Yorktowne Cabinetry at our York and Lancaster Showrooms
Browse our
York, PA Cabinetry Design Showroom where one of our professional designers will guide you through the process
. Our
Willow Street, PA Design Center
is a great place to begin developing ideas for your kitchen, bathroom, or any room in your home.
Quality You Can Count On Years To Come
A lot of kitchens look alike, so how do you pick one you can really trust? Yorktowne knows you invest a lot of money in your kitchen, a room that must stand up to the test of daily use, and you'd like it to last 20 years or more.
To ensure that their products can meet not only you design and beauty needs, but also the necessary quality demands, they've built their products to meet the highest requirements and achieve the KCMA certification. A seal that This Old House advises you shouldn't buy a cabinet without.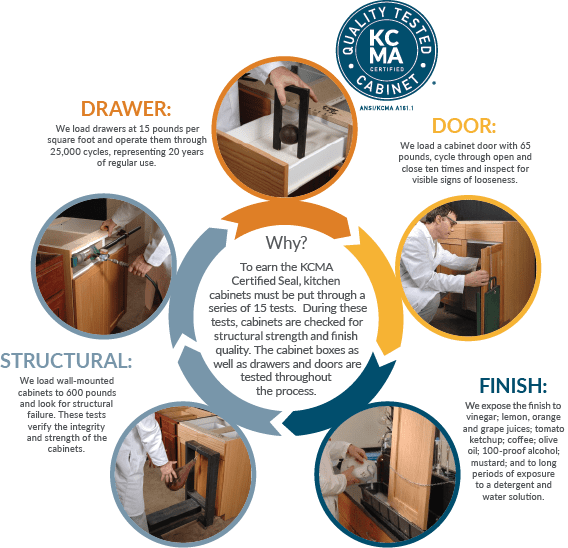 *PROMOTION RULES
1. There is no cabinet minimum purchase required for this promotion.
2. Not valid with any other offer.
3. Chargeable Rapid Response orders that meet the qualifications of the promotion will receive the appropriate discounts.
4. Special projects, displays, parade of homes, model homes, sample orders and free cabinetry are excluded from this offer.
5. To qualify for this promotion, orders must be released and scheduled within five business days after the last date of the promotion.
6. Elkay reserves the right to amend the terms or details of any of its promotions or to terminate its promotions without notice.
7. Lead times are subject to change during promotional periods based on volume.
8. Valid for G R Mitchell Incorporated only.